Let's get started.
In order to provide you with personalized information about laws and regulations in your area:
Why Medical Professionals Choose CCC
"Whether or not doctors or other healthcare providers have any intention of recommending medical marijuana for patient care, they all need to be well educated in this clinical area because their patients will be seeking their expert advice and guidance for this important medication. Further, some patients may already be utilizing medical marijuana and doctors and other healthcare providers will need to be aware of the physiological effects of marijuana as well as potential drug interactions. As such, expertise in medical marijuana will be paramount for most doctors, pharmacists, nurses, and other healthcare providers if they wish to continue to be that respected guide for their patients' healthcare."
-Stephen B. Corn, MD 2016
Welcome to the Cannabis Care Certification (CCC) Program for Medical Professionals. Cannabis Care Certification helps doctors provide the best care for their patients, and helps patients get the most from their medical cannabis use. Written by recognized world experts, including Dr. Raphael Mechoulam, the CCC Program features online education that provides a comprehensive and in-depth introduction to the endocannabinoid system, and cannabis therapeutics and their clinical indications. The content, and its presentation, are designed to be of educational value and interest for those new to medical cannabis, as well as for those with years of experience in this area of clinical practice.
Successful completion of the program culminates in the medical professional being awarded "Cannabis Care Certification," continuing medical education (CME) credits, patient education subscription, and an option to be listed on the CCC referral section of the website. This certification, awarded only to those who fulfill the certifying requirements and successfully complete the academic course, distinguishes that clinician as one dedicated to developing expertise in cannabis care.
The program also provides resources for medical professionals including:
Current information on state-by-state requirements for recommending medical cannabis
Overview of federal laws and memos concerning medical professionals and cannabis
Educational material for patients
Enrollment provides access to over 50 additional syllabus topics at TheAnswerPage.com, including pain medicine, opioid prescribing, palliative care, perioperative and hospital medicine, anesthesiology, medical statistics, and risk management. The education provided by the CCC program and the accompanying certification will be increasingly relevant in the evolving regulatory and competitive healthcare environments.
How it works:
Step 1: Inform: Sign–up and receive a FREE legal overview and a list of requirements for your state Medical Cannabis Program
Step 2: Enroll: Choose the CCC Medical Professional Education Program that works for you
Step 3: Learn: Complete the Education Program
Step 4: Earn: Receive CME credits and CCC Certificate
Step 5: Join: Opt in to a referral list for patients seeking doctors with CCC training (optional)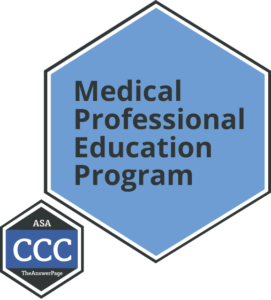 Both subscriptions provide access to TheAnswerPage's entire Medical Cannabis Library with updates for 12 months.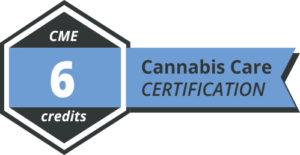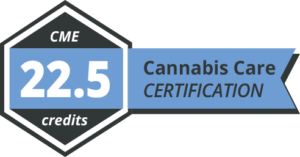 ---